Every day your players will have a specific training plan that you assign. When you first start out you can only train one specialized training unit, a general training and the tactics slot. As you build up your training facilities, more slots are added. 
You can also play a training trading card per day.
Premium Users
For premium account users the training plan can be saved for the complete week, and it will repeat itself until you change something.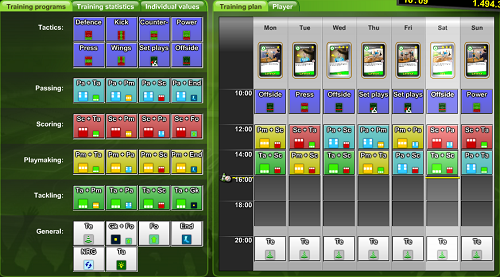 Non-Premium Users
Without a premium account you will always see your training for yesterday, today and tomorrow. The training does not repeat after it is completed, so you have to login at least every other day so your players don't miss out on their training.
Training statistics
You can monitor your player's training progress by clicking on the player tab above your training plan.
Simply select a player on the right side and see how he has advanced in the last few months. On the top you will see his average strenght. You can also see his skills and experience by selecting them from the list below.
On the bottom you will also see his endurance, energy and form development. 

You are also able to exclude your players from the training and with that save their energy point that would otherwise be used for the training. You can do this by selecting tab option "Individual values" and then just select players that should not participate in the training.