To provide good training for your players it is important to build and expand your training facilites.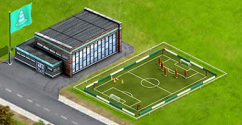 Each building level enables new functions, like extra training slots or being able to hire an assistant coach.
As your players are your main capital, training them well is one of the most important things in the game. It might be expensive now, but it pais off in the long run.
Make sure you keep your training facilities well maintained, as otherwise your training effect will suffer.
Hint: There are several special building upgrades available for the training facilities. With them you are able to give your training additional boosts and by that push your team ahead even more!
Tackling

,

Playmaking

,

Passing

,

Scoring

and

Goalkeeping

training upgrades give 10% bonus for each training unit. For example: If you have Scoring training upgrade you will receive 10% bonus on all scoring training units. 
The higher you advance in your manager career, the more buildings become available!